Each month we'll feature a book or item from our 12-step recovery and inspirational bookstore! These items will be available for purchase inside our Administration Office in Prescott Valley located at:
2651 N. Industrial Way, Suite A, Prescott Valley 86314. Open Mon – Thurs 9 am – 4 pm, and Friday by appointment. Call Suzi or Leslie at 928-772-4184 to learn more.
The Gifts of Imperfection
By Brene Brown
July Special Price: $13
"Let go of who you think you're supposed to be and embrace who you are."
What's wonderful about Brené Brown is that she "shows" you rather than "telling" you. That is to say that she tells stories on herself – about embarrassing episodes in life; about her moments and even seasons of selfishness, self-pity, stupidity, shame, and resilience. Through stories from her own life, she coaxes our own shame and embarrassment out of us and into the light to show us that not only are they NOT powerful, but very often they're completely hilarious.
Because we live in a blame culture according to Brown, we find it difficult to be compassionate. "I don't believe that compassion is our default response. I think our first response to pain – ours or someone else's – is to self-protect. We protect ourselves by looking for someone or something to blame. Or sometimes we shield ourselves by turning to judgment or by immediately going into fix-it mode" (p. 16). The word compassion comes from the Latin "pati" and "com" meaning "to suffer with." Nope, that's clearly not the default these days for most people.
I hope you'll treat yourself to a good read and a genuinely uplifting look at everyday life in our times.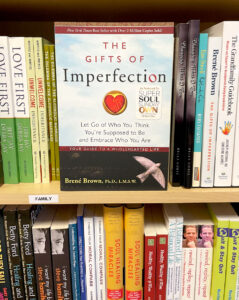 LOOKING FOR OTHER 12-STEP RECOVERY AND SUPPORT GROUP MEDALLIONS, BOOKS, GIFTS, AND MORE? STOP BY OUR BOOKSTORE LOCATED AT 2651 N. INDUSTRIAL WAY, SUITE A (INSIDE OUR ADMINISTRATION OFFICE!)