Each month we'll feature a book or item from our 12-step recovery and inspirational bookstore! These items will be available for purchase inside our Administration Office in Prescott Valley located at: 2651 N. Industrial Way, Suite A, Prescott Valley 86314. Open Mon – Thurs 9 am – 4 pm, and Friday by appointment. Call Danica or Leslie at 928-772-4184 to learn more.
Boundaries: Where you End and I Begin
March Price: $16.95
Review by Danica
Boundaries can be violated verbally, physically, sexually, mentally, spiritually, and emotionally, but we may not say anything. If we do not learn how to authenticate our own boundaries and feelings, this cycle will continue.
Learning how to set healthy boundaries will help you in every kind of relationship you will have in your life. Boundaries by Anne Katherine includes exercises and quizzes in the chapters so that as you read, you can understand boundaries with learning tools to recognize if your current boundaries are unhealthy.
Throughout the book there are stories from people that describe how their boundaries were violated early in childhood and caused alarming issues throughout adulthood.
Often boundaries are pushed to the back burner when things are difficult. For example, I finally decided therapy could benefit me, so I made an appointment to see a therapist. I showed up and I felt very uncomfortable with this person right away. I ran out of there having had a terrible experience, never wanting to go back. After telling a friend about my experience, they asked me why I didn't just ask for a different therapist? I had no idea it was that simple. I didn't realize I could express the way I felt without someone being upset with me and then trying to make my life difficult.
I went back and asked for a different therapist and nobody was mad at me. I loved the new therapist. I had to stand up for myself and ask for what I needed. For most of my life I'd learned that if I said something about being uncomfortable with someone or something, I was overreacting and wrong for feeling that way.
It never hurts to learn healthy, lasting ways to stand up for yourself. I chose this book because I am a survivor of domestic violence. I feel it's vital for me to mirror healthy boundaries for my daughter so she may stand up and nurture healthy relationships for herself.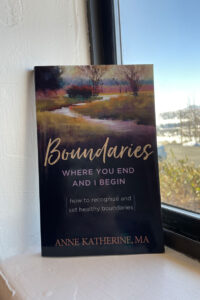 LOOKING FOR OTHER 12-STEP RECOVERY AND SUPPORT
GROUP MEDALLIONS, BOOKS, GIFTS, AND MORE?
STOP BY OUR BOOKSTORE LOCATED AT
2651 N. INDUSTRIAL WAY, SUITE A (INSIDE OUR ADMINISTRATION OFFICE)!