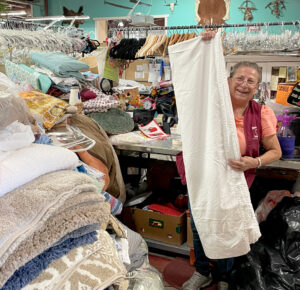 Stepping Stones Thrift Store is a one-stop shop with all the amazing treasures under one roof!
From furniture to clothing to home goods, our thrift store is filled with special items at great prices. Want some new books? Most are $1 or less! There are new items on the floor every day for you to find and bring home.
But our thrift store is more than just a great place to find second-hand goods. It provides paid on-the-job training to those needing extra support as they get back on their feet, including families who are in Stepping Stones' advocacy services! Our stores serve as a safe place where people can learn and grow as they gain skills that will help them continue to secure employment in the future.
In 2021, Stepping Stones Thrift won Best Thrift Store again through The Daily Courier's Reader's Choice Awards, voted on by the community. We love receiving this honor, but what makes us outstanding are the awesome customers, donors, friends, and associates who work hard to create an uplifting environment to shop in. We couldn't be here without YOU! Thank you for shopping, donating, and supporting local families with us!
Visit our huge thrift store location! WE PICK UP FURNITURE in the quad-cities!
Call OUR DONATION CENTER: 928.759.0225 Mon – Thurs 9 am – 4 pm 
Schedule can be up to two weeks out
STEPPING STONES THRIFT STORE LOCATED IN PRESCOTT VALLEY Stepping Stones Thrift Store 2651 N. Industrial Way, Prescott Valley 928.499.3206
STORE HOURS: Tues – Sat 9 am-5 pm Donation Drop Offs: Tues – Sat 9 am-4 pm
Prescott thrift store closing: October 30, 2021 is last day to shop for treasures at our Prescott Thrift Store on Goodwin Street.